Arduino GSM Shield 2 with Antenna Connector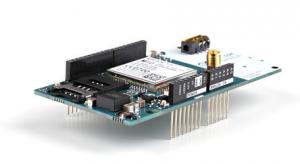 Arduino GSM Shield 2 with Antenna Connector
---
---
Deliveries:
South Africa: Price: R115, 2-4 working days.
International: Contact us for a quote.
Collections:
No Charge - 3 Appian Place, 373 Kent Ave, Randburg

All items subject to 1 month warranty. Extended 12 month warranty available at 20% of purchase price. t&c apply

Arduino GSM Shield 2 with Antenna Connector
Connect to the Internet
The NEW Arduino MKR GSM 1400 is more capable with richer functionality, the most recent revision of the board uses the 1.0 pinout on rev 3 of the Arduino Uno board.  To interface with a cellular network, it requires a sim card provided by the network provider.
The Arduino board allows you to connect to the internet, make/receive voice calls and send/receive SMS messages.
To use this board you should note that:
Requires an Arduino board (not included)
Operating voltage 5V (supplied from the Arduino Board)
Connection with Arduino Uno on pins 2, 3 (Software Serial) and 7 (reset). See these notes for working with a Mega, Mega ADK, or Leonardo.
This version has a connector for an external antenna