Arduino USB 2 Serial Converter (A000059)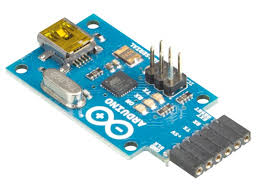 Arduino USB 2 Serial Converter (A000059)
---
---
Deliveries:
South Africa: Price: R115, 2-4 working days.
International: Contact us for a quote.
Collections:
No Charge - 3 Appian Place, 373 Kent Ave, Randburg

All items subject to 1 month warranty. Extended 12 month warranty available at 20% of purchase price. t&c apply

Arduino USB 2 Serial Micro
Microcontroller
The Arduino USB 2 Serial micro get the 5 volt TX and RX lines from a computer USB port that you can connect straight to the Arduino Mini 05 or to other microcontrollers for programming or data communication.
The USB Serial Adapter has an onboard mini-USB connector and 5 pins including RX (for receiving data from the computer) and TX (for transmitting data). 5V, Ground and a Reset pin are also exposed.  Status lights include power, RX and TX activity.
The adapter can easily connect to the Arduino Ethernet, Mini, Mini Pro, LilyPad, LilyPad Simple, and Fio and An onboard polyfuse limits the current to 500mA and protects the host computer from short circuits.