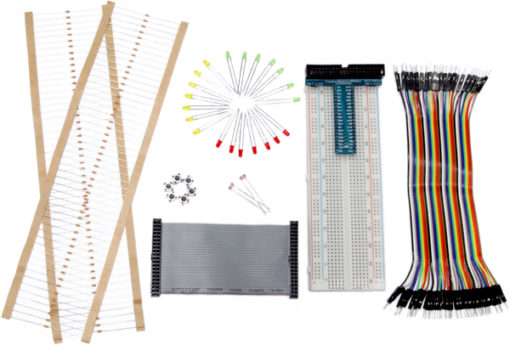 C Tinkering Kit
For ODROID-C2 / ODROID-C1+ / ODROID-C4
You can do it yourself & learn how to make a light sensor, all you need are the below components and a oDroid (SBC) small board Computer.

Time to have some fun & make some embedded computer projects with ODROIDs. What you need is an add on prototyping T-breakout board, which can break out all those tasty power, GPIO, I2C, ADC pins from the 40 pin header onto a solderless breadboard.
This kit comes with below many items.
Assembled T-breakout PCB –  40Pin GPIO Breakout board
Breadboard – 630 Tie-points with dual power lanes
40pin Ribbon cable – IDC Flat cable 100mm
40pin Male-to-Male Dupont jumper Wire 170mm
7 x Green LED 3mm
7 x Yellow LED 3mm
7 x Red LED 3mm
2 x Photo Cell (CdS Light sensor)
6 x Tact Swithc
50 x 330 Ohm 1/6W resister
50 x 10K Ohm 1/6W resister

This kit will work with: