Pico Cluster 5H Raspberry PI4 8GB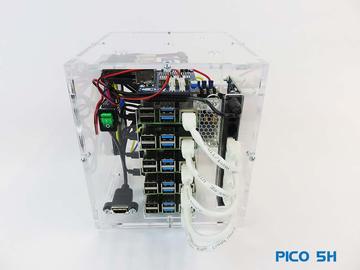 Pico Cluster 5H Raspberry PI4 8GB
---
---
Deliveries:
South Africa: Price: R115, 2-4 working days.
International: Contact us for a quote.
Collections:
No Charge - 3 Appian Place, 373 Kent Ave, Randburg

All items subject to 1 month warranty. Extended 12 month warranty available at 20% of purchase price. t&c apply




Pico Cluster 5H Raspberry PI4 8GB
Cluster Boards Together
The RPI4 requires about double the power of the RPI3B+ to run optimally and so will only be available as an H model. The new design will be somewhat different than the current H model and will use a new, custom-built PDU from Pico Cluster.

The Advanced Kit and Assembled Cube come with the 8GB board. You can use any of the boards in the Starter Kit.

The RPI3B+ will remain available in its current forms as less expensive and less powerful models.  The Pico 5 is our most popular model! It now comes in multiple flavors to better suit your budget. The Pico 5 Raspberry PI4 is designed to cluster 5 Raspberry PI4 boards together to run a variety of software from web servers and databases to Big Data and NoSQL software. One of our most popular uses is with container managers like Docker Swarm or Kubernetes.


| | |
| --- | --- |
| Model | Pico 5H |
| Version | High Power |
| Switch | 8 port gigabit |
| Power | Internal |
| 60mm Fan | Included |