Rock Pi 4 ROCK 4 x - M.2 Extension board v1.6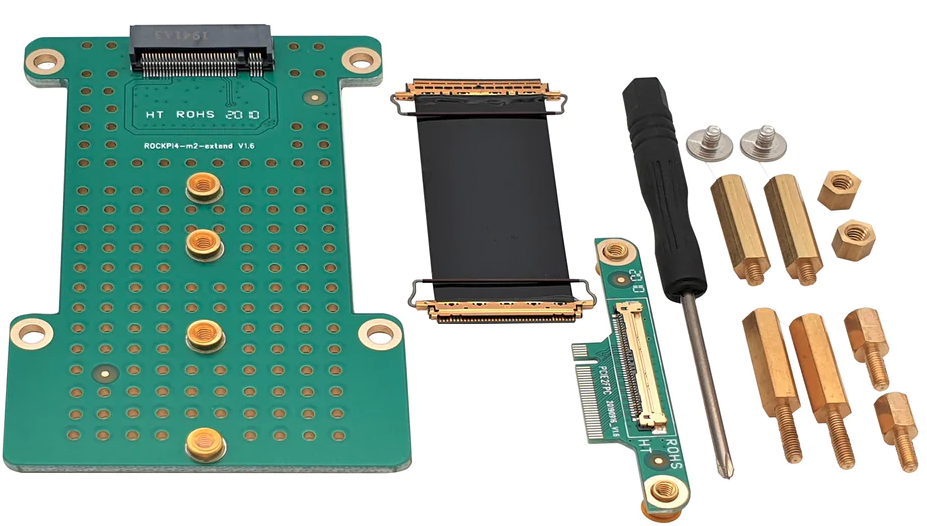 Rock Pi 4 ROCK 4 x - M.2 Extension board v1.6
---
---
Deliveries:
South Africa: Price: R115, 2-4 working days.
International: Contact us for a quote.
Collections:
No Charge - 3 Appian Place, 373 Kent Ave, Randburg

All items subject to 1 month warranty. Extended 12 month warranty available at 20% of purchase price. t&c apply

Rock Pi 4 ROCK 4 x - M.2 Extension board v1.6
Divert the M.2 interface

Divert the M.2 interface of the ROCK 4 by mounting this extension board, Works with all ROCK Models 4A / 4B /4B+
Must be used with Rock 4 heat sink (or ecoPI PRO cases) for proper mount together with Rock 4

The new M.2 Extension board v1.6 was improved based on the community feedback.
Improvements:
Gold-plated connectors for stable data transmission
In the earlier iteration, the connectors were basic FPC connectors, susceptible to easy breakage and the potential for improper ribbon cable installation. The new connectors not only prevent incorrect cable insertion but also incorporate a locking mechanism to prevent connector displacement.
Improved Ribbon cable with mounted gold-plated connectors on both sides
The previous ribbon cable often sparked discussions due to concerns about its stability in data transmission. Users expressed dissatisfaction with the imprecise FPC connector connection and the potential for interference, attributed to the lack of ground lines for isolation within the ribbon cable.

Both of these issues have been diligently addressed. The cable now features gold-plated connectors on both ends, and meticulous attention has been given to shielding between the high-speed data lines. A thoughtful arrangement ensures data integrity. Moreover, the connectors incorporate additional springs to maintain a secure connection, even in cases of board movement.

The only drawback now is the inability to easily adjust cable length with replacement cables.
Redesigned interface board to the M.2 connector of Rock 4
One of the occasional complexities revolved around attaching the compact interface board, as it posed a minor interference when the eMMC module on the underside of the board was being mounted. Despite reservations, no adverse effects were observed, dispelling the notion that simultaneous installation was unfeasible.

With the freshly upgraded M.2 extension board boasting enhanced features and specifications, your Rock Pi 4's PCIe experience is poised to reach the forefront of innovation.
Product includes:

M.2 Extension board
Mini PCB adapter for the connection to the on-board M.2 socket
High-performance ribbon cable
Mounting bolts and screws