UNO PLUS, Improved UNO (Arduino-Compatible)
UNO PLUS, Improved UNO (Arduino-Compatible)
---
---
Deliveries:
South Africa: Price: R115, 2-4 working days.
International: Contact us for a quote.
Collections:
No Charge - 3 Appian Place, 373 Kent Ave, Randburg

All items subject to 1 month warranty. Extended 12 month warranty available at 20% of purchase price. t&c apply

UNO Plus from Waveshare

UNO PLUS is a development board compatible with the Arduino UNO R3.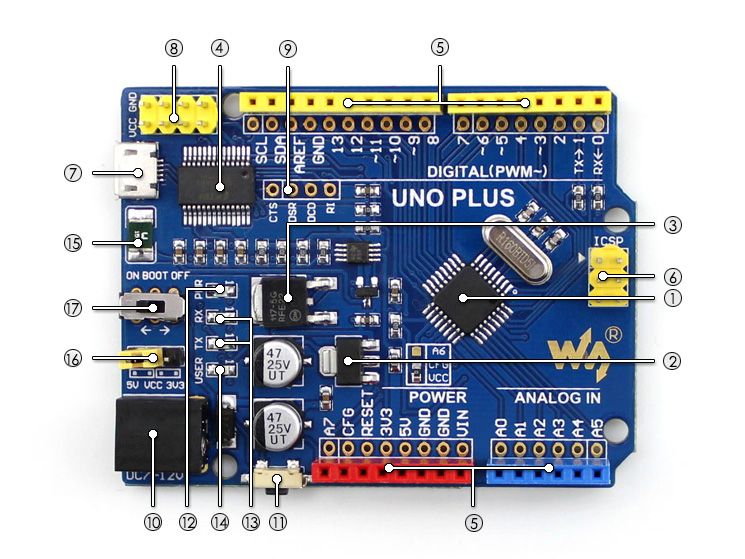 UNO Plus versus Arduino UNO
What are advantages of the UNO plus over the Arduino UNO?
What is the UNO Plus

ATMEGA328P-AU

AMS1117-3.3 : 3.3V voltage regulator

NCP1117ST50T3G : 5V voltage regulator

FT232RL : USB to UART convertor

Arduino interface   - compatible with standard Arduino interface with two additional analog inputs A6 (config the CFG), A7. solder pads provided, supports prototype breadboard


ICSP interface

MICRO USB connector : for uploading program OR serial port debugging

Power output header : 3.3V OR 5V, voltage level configured by the onboard power configuration switch, used as power output OR common-grounding with other boards

FT232 pins : for burning Bootloader into the microcontroller

DC input : 7V ~ 12V

Reset button

Power indicator

Serial port Rx/Tx indicator

User LED

500mA fast self-recovery fuse

Power configuration : for configuring the operating voltage

Bootloader selection switch
turn ON : the board will reset when power-up OR other USB devices were detected connecting to the PC
turn OFF : the onboard program runs immediately when power-up, and the board will not reset when other USB devices were detected connecting to the PC
.