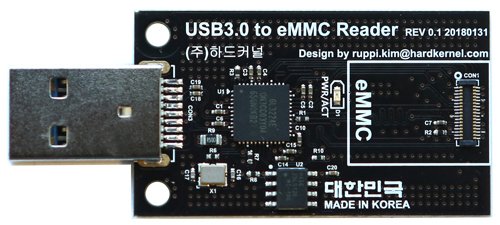 ODROID USB3.0 EMMC Writer
It does not work with the Black eMMC Modules.
With this unit, you will not need a separate USB card reader. Just attach your eMMC module directly to your PC/Mac via this writer board.The USB 3.0 eMMC Module Writer is 3-4 times faster than a normal USB 3.0 card reader.

KEY FEATURES:

USB 3.0 Interface

Native eMMC 8bit wide data interface, instead of slow SD 4bit width

Works in HS200 mode

Windows / Mac / Linux Compatible

Works with ODROID Orange, Red and Blue eMMC modules

Use with Etcher or Win32DiskImager software on your PC

It can't access the eMMC hidden boot blocks

Rated Power : 5V/500mA (including eMMC module)

Dimensions : 60x26x4.5 mm