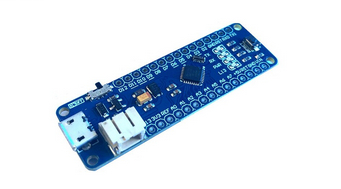 Banana Pi Nano

Banana pi Nano replacement for Raspberry pi Nano

The BPI-Nano board is a small, complete, and breadboard-friendly board based on the ATmega328 (same Nano 3.0), It has more or less the same functionality of the Duemilanove. It lacks only a DC power jack and works with a Mini-B USB cable instead of a standard one.
Input and Output

| | |
| --- | --- |
| Serial | 0(RX)、1(TX),Used to receive (RX) and transmit (TX) TTL serial data. These pins are connected to the corresponding pins of the FTDI USB-to-TTL Serial chipea |
| external Interrupts | 2 and 3. These pins can be configured to trigger an interrupt on a low value, a rising or falling edge, or a change in value |
| PWM output | BPI-NANO have 3, 5, 6, 9, 10, and 11. Provide 8-bit PWM output with the analogWrite() function.SPI:10(SS)、11(MOSI)、12(MISO)、13(SCK),These pins support SPI communication, which, although provided by the underlying hardware, is not currently included in the Arduino language |
| L13 | There is a built-in LED connected to digital pin 13. When the pin is HIGH value, the LED is on, when the pin is LOW, it's off |
| I2C | 4 (SDA) and 5 (SCL). Support I2C (TWI) communication using the Wire library (documentation on the Wiring website) |
BPI-NANO can power with a MicroUSB port, PH2.0 port, and VIN port.

Power-dependent pins are as follows:

PH2.0 port: can input 7-12V,It can be controlled by a power switch.


5V:5V power PIN。when use USB power,direct output USB supplied 5V voltage;When using external power supply, output 5V voltage after voltage stabilization.


3V3:3.3V power output PIN,output Max is 50 mA.


VIN:Connect to external dc 5V power supply


REF:I/O reference voltage. Other devices can identify the development board I/O reference voltage through this pin.


Hardware Specification of Banana pi Nano
| | |
| --- | --- |
| Microcontroller | ATmega328P |
| Operating Voltage | 5V |
| Input Voltage: (recommended) | 7-12V |
| Input Voltage: (limits) | 6-20V |
| Digital I/O Pins | 14(include 6 PWM output) |
| PWM PIN | 6个 |
| Analog Input Pins | 6个 |
| I/O output Max | 20mA |
| 3.3V output Max | 50mA |
| | |
| --- | --- |
| ATmega328P @16 MHz. | |
| 32 KB Flash. | 32KB(ATmega328P) and 0.5KB used by the bootloader |
| 2 KB SRAM. | 2KB(ATmega328P) |
| 1 KB EEPROM | 1KB(ATmega328P) |