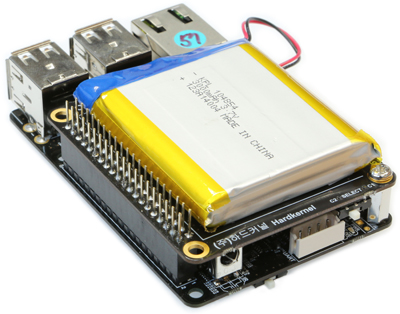 UPS3 - ODROID C2
The UPS3 is designed specifically for the ODROID-C1 / C1+ / C2.
Uninterrupted Power Supply is an electrical apparatus that provides emergency power to a load when the input power source, typically mains power, fails. The on-battery runtime of most uninterruptible power sources is relatively short but sufficient to start a standby power source or properly shut down the ODROID.
It is equipped with a rechargeable 3,000mAh Lithium Polymer battery and a charger with a booster IC for 5V output.

When the AC power source fails, the UPS3 keeps supplying the power to the ODROID C2 with the battery. There is a digital output pin to notice the battery low-level warning to the ODROIDs to trigger the shutdown process. And the AC power source available, UPS3 will supply the power to the ODROID board again automatically. It will significantly reduce the risk of data loss by sudden power-down.